Sri Poornananda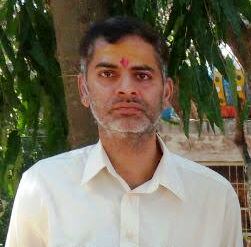 President
Sri Poornananda is one of the Founder and President of Paravidya Gurukulam, which is run by Parama Poorna Prakasha Pratishtana. Born in a traditional Smartha Brahmin family, which is from Udupi and settled in Bengaluru. From the early age performed Nitya, Naimittika, Prayaschitta and Upasana Karmas as Kartavya, and till date continued Shastra adhyayana under the Shrotriya Brahmanishta Sri Srinivasa Guruji.
After completing the post graduate engineering in Computer Science, he also continued Shastra adyayana and studied Shiksha, Vyakarana, Chandas, Jyotisha, Purva Mimamsa, Vedanta, Sankhya, Yoga, Nyaya Vaisheshika darshana from many traditional Acharyas.
In 2014, with Pujya Guruji Sri Srinivasajis direction to Preserve, Practice, and to Propagate the traditional academic study of Veda and Vedic Shastras, Sri Poornananda and fellow students formed the Trust by Name "Parama Poorna Prakasha Pratishtana". Under this banner many Academic milestones have been accomplished. Manu Script Preservation, Digitalization, Online Library, Translation, Academic Syllabus Book Publishing, establishing traditional and online courses for beginners are some of the key achievements.
The Pratishtana also built one of the largest online hindu information portal www.Hinduonline.co, which provides comprehensive information on Hinduism. Apart from providing authentic information, the portal also has digital Library for Audio and PDF book downloads for free of charges.
ParaVidya Gurukulam the traditional orthodox Gurukulam has 2000+ students studying different shastras online and through direct classes. With its IT savvy Volunteers, Paravidya has established the robust technology platform, with Online LMS (Learning Management System), Mobile Learning Applications, Mobile Application for Shastra Granthas, Mobile based Mini library, and with many more advanced Learning and Study Solutions, reaching out to and training thousands of students in Veda and Vedic Shastras.